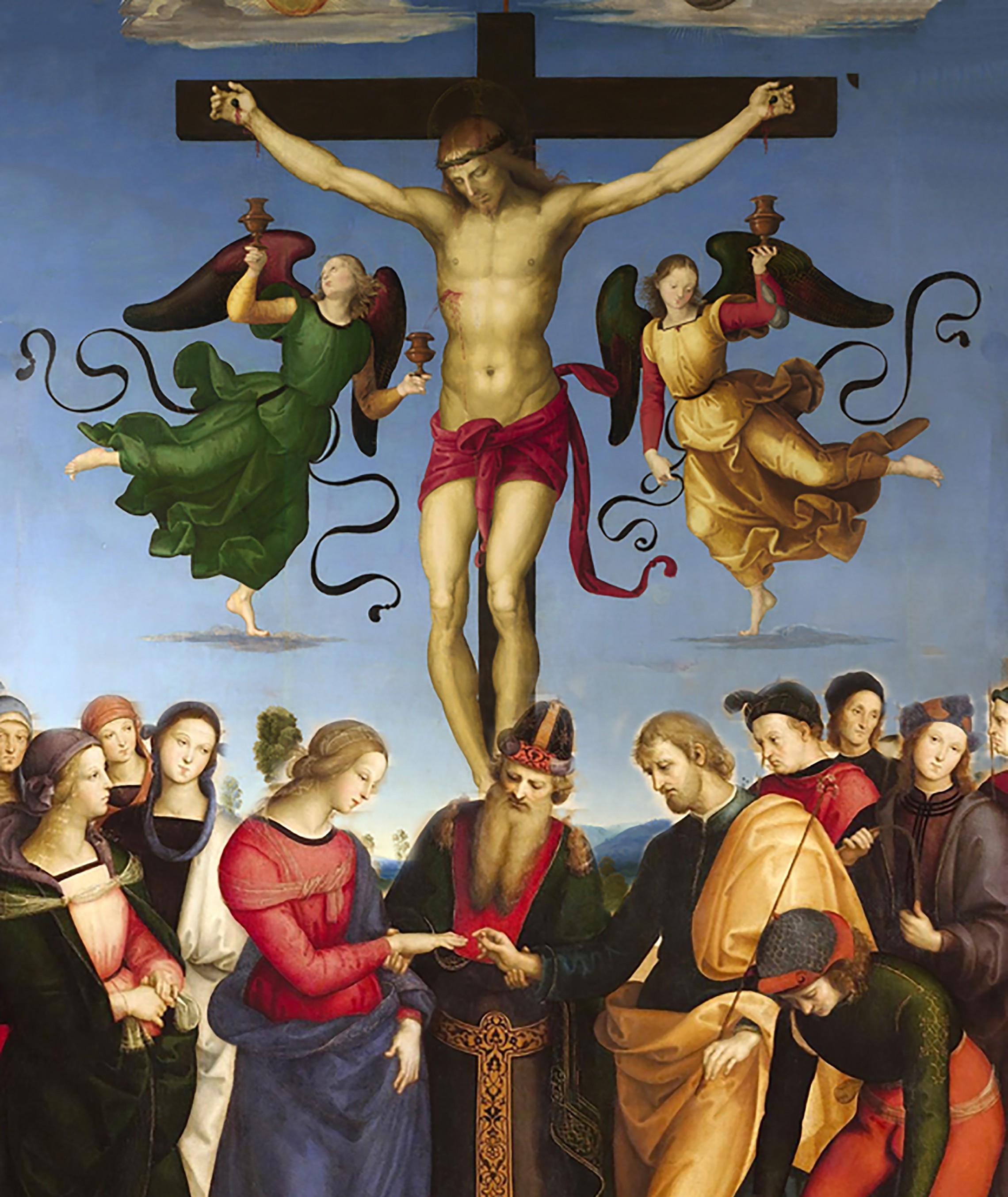 The Great Mystery is marriage formation for the new millennium.  We live in a time in which relationships are understood primarily in self-serving terms.  We are formed to think that a relationship is only for the purpose of serving our needs and so it is the other person's responsibility to meet our needs or the relationship is to be discarded.  It is no wonder that inspite of unprecedented "connectivity" we have with others, that as a society we are feeling more and more isolated, and more and more alone.  It is because we do not understand the meaning of who we are and what we are made for.  We do not understand how to live fruitfully in relationships and so all of our relationships suffer.  We find our relationships often times much more a source of pain than of joy.
Marriage is no different.  We are taught that marriage is for the sole purpose of our happiness and that it is our spouse's responsibility to make us happy.  This redefinition of marriage reduces it to a fool's errand.  It is no wonder fewer couples are entering marriage and of those who do, they are increasingly reporting low levels of satisfaction with it.  We live in a time when we need not only to understand the truth of the human person and marriage, but we also need practice in building habits that can allow us to live out our relationships in a fruitful way.  In a word, we need not just education about marriage, we need formation.  Unfortunately, after reviewing the best and the most popular marriage preparation programs, while most have their strenghts, we found none that provide integral formation.  The best programs tend to be strong either in practical or in theological education but the two are not draw together within a program of formation.  The Great Mystery fills this gap.
The Great Mystery has published the first edition of a book and couples guide that can be ordered through Amazon.  We are currently in the midst of developing and validating an accompanying couples inventory.  When the inventory is complete, we will then turn to developing a facilitator formation program.  Follow us as we proceed in the development of this exciting program.  If you would like to support the development of The Great Mystery financially, please go to our Support Page.
You can find The Great Mystery books at the following links:       Book        Couples Guide
See our director discuss the program on KJMA's Rise and Walk radio program.
What our couples are saying:
We firmly believe The Great Mystery was the best program to prepare us for our marriage. It gave us the opportunity to better understand ourselves, each other, and most importantly, our faith, in order to prepare us for this beautiful Sacrament. We highly recommend The Great Mystery to any couple discerning marriage, engaged, or already married in order to deepen their love for each other through Christ!         

Cullen & Andrea Carter, The Great Mystery Couple
 Dr. Delaney has provided a much needed road map for sacramental marriage.  Not only is it a necessary resource for guiding engaged couples but it informs individuals considering marriage as a vocation and enriches those who have been married for many years.  Today marriages face a tide of anti-preparation for the Sacrament. The Great Mystery confronts those lies head on and gives a thorough and practical guide for marriage, grounded in sound human psychology and faithful theology.

Shelley Davis, President TORCH San Antonio
We came into The Great Mystery program during our engagement, feeling like we had a pretty good grasp on our faith and the purpose of marriage, yet we came out of the program feeling even stronger in our knowledge of faith and the eternal truths undergirding the Sacrament of Marriage. Dr. Delaney presents the matters of both faith and marriage in a way that goes far beyond skin-deep while still retaining the accessibility of the material to the beginner. We gained a deeper understanding of the covenant into which we were preparing to enter and felt armed with practical tips and advice to face the daily and worldly challenges every husband and wife face. We cannot recommend highly enough The Great Mystery to every couple, whether they be preparing for marriage or simply looking to strengthen their relationship after years of being together.

     William & Rebekah Hegedusich, The Great Mystery Couple
Not only did we look forward to and enjoy our sessions, but we were also filled with new revelations. We learned so much about each other, and every session we came away with takeaways and new insights about each other. It gave us a foundation from which we will continue to build upon as we grow as a married couple. We highly recommend this program to all couples looking to grow closer together and deepen your relationship with God together. All the material is extremely relevant and pertinent to everyday life. It was remarkable how God worked in us throughout this time, and day-to-day real scenarios (little did we know) were perfectly timed with the next session we covered. We'll continue to look back on the material and learn from it for years to come.

Melanie and Juan Carlos Hinojosa, The Great Mystery Couple
 

"My husband and I were confronted with the need to dig deeper into uniting and harmonizing our faith as a couple. We come from two different faith traditions, so going through this with one another challenged us to seek tangible ways to put Christ at the center of everything. We plan on keeping this book to refer back to as our marriage progresses. This course  . . .  has set a solid foundation for our marriage."

Alyssa Burleson, The Great Mystery Couple
"The Great Mystery program applies the teachings of the Church to marriage preparation with great care and lucidity. Following a traditional model of catechesis, the program provides a comprehensive review of everything from the fundamentals of Catholicism to the finer details of finances and raising children in the faith. Each chapter formed an excellent foundation for our discussions  . . .  and with joy we returned again and again to themes such as how to understand marriage as an order in the Church, who we are as adopted children of God, and the powerful role of marriage as a Sacrament in the life of grace. Without a doubt, this program has formed our vision for a strong, faithful, and happy marriage and we will continue to draw fruit from this careful study of holy matrimony. We pray that couples will find in this program more than enough wisdom to prepare them to live the great mystery of a blessed married life."

William and Amanda Trumble, The Great Mystery Couple
"Our engagement was blessed tenfold after our betrothal ceremony, a beautiful Catholic tradition we would not have known about if it not for The Great Mystery program. We recommend everyone read this book, not just engaged coupled, but also those who are intentionally dating for the purpose of discerning marriage.  The path this book takes you on is challenging as it makes you contemplate the hard questions in your relationship.  Through the program's exercises, you are helped to overcome your vices and worldly attachments and better prepared for entering into the Sacrament of Marriage. The program is centered around sacrificial love, the same love Jesus has for us and that we are to give to our current or spouse to-be. Deacon and Mrs. Delaney went above and beyond to guide us in our journey towards matrimony.  They lovingly encouraged us to stay rooted in Christ amidst the obstacles faced during engagement.  What they did for us will never be forgotten and we will always cherish their friendship and support.  Both of us truly believe this is one of the best marriage preparation programs you can find.  The content is extraordinary and very insightful. There is no substitute for the knowledge and wisdom Deacon Delaney offers in this book.  From the bottom of our hearts, thank you Deacon and Mrs. Delaney for all the time you've spent helping and teaching us in our journey to holy Matrimony.  We will always be grateful."

Daniel & Clarissa Gonzales, The Great Mystery Couple