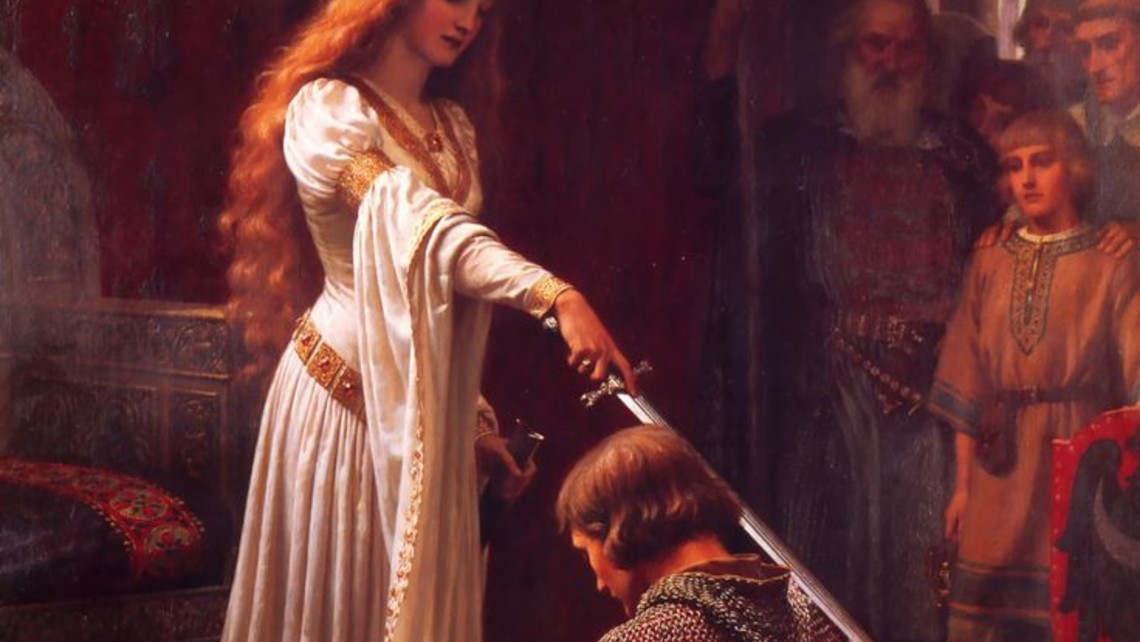 History of Chivalry
Picking up where we left off, let's return to the reason for the development of chivalry.  The chief aim of chivalry was to purify the natural desire for heroism among the warrior class which had corrupted into ruthlessness.  It's aims were to moderate the violence of warfare and to dedicate the Christian knight to the service of Christ, to the promotion of justice, and to the protection of the weak and defenseless.
Chivalry helped to lessen feudal cruelty to some degree by introducing into existing military traditions, a code of honor that was taken as an oath by mounted knights (hence the term chivalry which derives from the French word for horse).  The chivalric code helped the knights to understand that they were first Christians before they were warriors and as such, their role was to fight only for just causes.  To be a Christian knight meant always to act justly, to be heroically just in all things.  Christian knights swore fidelity to their obligation to protect women and children, to defend the Church, and to be loyal to their sovereign in a religious ceremony. 
Often times, the knight would prepare for the ceremony bestowing his knighthood upon him by fasting for many days prior, praying all night in front of the altar before the day he was to be knighted.  This knighthood was almost an order in the Church; in fact, some orders of knights did become official Church orders.  Chivalry also promoted devotion to the Blessed Virgin Mary and it required knights to see in all women, reflections of Mary.  This gave knights a duty to honor women and to protect their honor, even at the cost of their lives if necessary.  As we might suspect, not every knight lived up to his oath; yet, his worth as a knight and a man was evaluated by the code.
Eventually this chivalric code of honor spread to include all Christian men, directing their natural gifts of strength that can lead to aggressive selfishness, to selfless acts of courage and responsibility for all women, especially for their wives and families.  This Christian ethos eventually spread to women as well. For their part, women were expected to live their lives as models of Mary and to help protect men from unnecessary temptations through modest dress, purity of speech and action, and through chaste behavior.  Moreover, they were to exhibit Marian solicitude for other Christians, especially the poor and oppressed.  This code survived in Christian societies for centuries, but it began to die out as Western society increasingly rejected its Christian heritage.
Chivalry and courtship
For much of the second millennium in Western society, chivalry was no place more important than during courtship and the time of betrothal. For a Christian man, protecting a woman's honor was a moral duty.  This meant that he was responsible for protecting her reputation or at least not being a cause of her disrepute, and he was obligated to help to guard her purity.  The lady on the other hand was to present herself as a model of the Virgin Mary, accepting the man's deferential treatment with graciousness and gratitude.  She also was to dress and act in such a way as to protect men from temptations.  Social standards in Christian society generally helped people to remember their duties and to live up to them. 
Chivalrous behavior was not play-acting, it was not prudery, nor was it being inauthentic.  Rather it was being true to the reality of the human person, as male and female living in a fallen world.  It resonated with the deepest longings of the man and the woman who are created in the image of God, who have an inherent dignity, and who are made to love and to be loved.  Even if chivalry was a challenge to live up to in man's fallen state, it's benefits were recognized as being worth the effort.  Chivalry allowed women to love and be loved heroically like the stories of the medieval princesses, in an actively receptive way. It allowed men to love and be loved in a love of initiative; using their gifts of initiative and strength that God endows them with in the service of God through serving others.
Today chivalry is almost forgotten, or if remembered it is lampooned as an archaic and outdated idea.  Nevertheless, one can still see vestiges of it in the actions of some men such as standing up when a woman comes in the room, opening a door for her, or giving up his seat to her.  Chivalry is first an attitude of taking responsibility for one's gifts, for one's weaknesses, and for the good of the other person.  It is also a commitment to acting on this responsibility for the authentic good of the other (that is, not necessarily what the other wants but what is best for his integral flourishing).  Such attitudes and behaviors are becoming increasingly rare and the result is that we see an increase in selfishness, an increase in those suffering from loneliness and despair of finding happiness, and an increase in violence and cruelty even among those who profess love for one another.
With the contemporary loss of the memory of chivalry, we are seeing a return to pre-Christian cruelty.  Brutality against women and children is once again becoming increasingly common in formerly Christian societies.  It is heartbreaking to see the violence return, which Christian morality under the rule of chivalry had previously helped to overcome in large measure.  Rising rates of domestic violence, sex trafficking, sex crimes are all manifestations of this disorder. This societal regression should be a warning to us that chivalry must be relearned and lived out in society once again.  Even where violence is avoided, many major egoistic themes in our society (e.g. a sense of entitlement driven in part by consumer economics, widespread inability to delay the gratification of our desires, an extreme self-referential orientation in relationships, etc.) make it increasingly difficult for us to understand that our fulfillment if found in selflessness, and it is undermined by selfishness.
As in the past, chivalry can once more become a key institution for helping overcome the negative consequences that the fall inflicts on men and women in all manners of life, especially in the challenges couples face during dating, courtship and betrothal.  Without a return to chivalry, couples will be less inclined to engage in the sober discernment that successful marriages require.  Rather, they will be inclined to follow the patterns of unchastity our society now promotes, which is behaving as if one's partner is an object to use for satisfying his emotional and psychological needs and desires.  In short, without the development of a chivalrous attitude, an attitude that will not accept anything less than heroic love, today's couples are likely to end up as a divorce statistic, or at least in a relationship that falls well short of the joyful fulfillment possible in a fruitful, sacramental marriage.