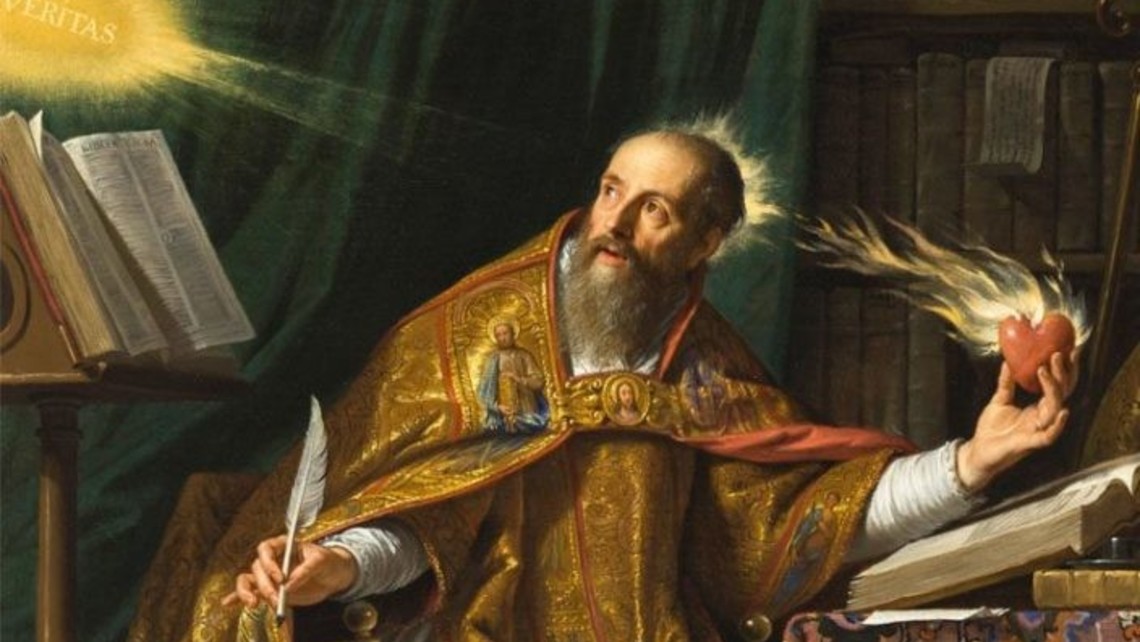 As we continue our discussion of the spiritual life, we should now turn to the fruit of self-mastery--self-possession.  Self-possession in not an end in itself, but a means--the only means--to personal fulfillment.  Self-possession is the state in which one possesses himself in such a way that he can give himself away to God and to others in selfless love.  What we mean by possessing oneself, is having enough self-mastery to say no to sinful and selfish thoughts and inclinations. Self-mastery and self-possession are not ends in themselves.  Rather, they are means for giving oneself away in love.  Self-possession is gained through training oneself in the school of virtue.  Virtue is a difficult school when one is left to his efforts alone.  This is especially true when living in a society which does not understand, and so rejects the essential nature of virtue for the human person and his happiness.  But Christians have an advantage over those who must rely on their own natural efforts. 
The Christian's natural efforts can be super-naturalized, through grace, to build the natural virtues to a much greater perfection than is possible by natural efforts alone. Moreover, these virtues, and the subordinate virtues that the four cardinal virtues depend upon can also be infused which provide us superhuman strength beyond the capacities of the natural virtues. These supernaturally infused virtues are found among the gifts and fruit of the Holy Spirit.  Recall that the seven gifts of the Holy Spirit are wisdom, understanding, counsel, fortitude, knowledge, piety, and fear of the Lord.  The nine fruit of the Holy Spirit are love, joy, peace, forbearance, kindness, goodness, faithfulness, gentleness and self-control.
For Catholics, the ordinary access to the fruit of God's sanctifying grace is received in the encounters with Christ we call the Sacraments.  In the Sacraments, we approach Jesus Christ Himself and we receive His transforming embrace.  This is true of all the Sacraments, but it is experienced in his most sublime fullness in the Holy Sacrifice of the Mass and the reception of Holy Communion.  If we are in a state of grace, we receive His embrace fruitfully which places an ongoing source of strength in our soul; St. Thomas called this residual fruit of grace left in our souls, "created grace." The strength of this created grace is dependent upon our disposition.  The holier we are, the greater we are disposed to this grace and so the greater the strength of the residual encounter and the longer it remains within us.  Our disposition of holiness, is dependent upon our self-possession and the extent to which we use this self-possession to act as Christ does.
One can also see the fruitfulness of the encounter with Jesus Christ in the Sacraments as an act that conforms us to Him.  The more docile, receptive and loving we are, the more the encounter transforms us into the mold of Our Master and Lord.  Another way of seeing this cooperation can be described in the form of a mental image. 
Imagine a natural sponge which represents our soul and the water represents grace.  A natural sponge is unique because when it is soft and supple, it is very absorptive.  However, if it has been left out and unused for a long period of time, it becomes hard and no longer absorbs water.  This is an analogy for the state of our soul when we live selfishly and stay away from the Sacraments (or if we receive them unworthily, i.e. not in a state of grace).  The soul of a radically selfish person is hardened and even while in a state of grace, it does not very fruitfully receive sanctifying grace.  The way to recondition the sponge is to soak it in water. 
The way to restore our soul for a fruitful reception of grace is to make it docile through soaking in grace.  In this analogy, this would be frequenting the Sacraments of Penance and Holy Communion. However, soaking in grace in a passive manner is inadequate.  The way to recondition the sponge while it is in water, is to massage it in order for the water to more deeply penetrate the dried fibers of the sponge.  The analogy with the soul is to cooperate with grace through a life of virtue and good works of love to allow God's nature to penetrate us more deeply and to transform us more fully.  Our focus must always be on Christ and on Him Crucified, and desiring to be transformed into Him. 
What the crucifixion emphasizes is the need for our own dying to our fallen inclinations which seem to dominate us in this fallen world.  We don't like to die.  Our natural inclination is to rebel against death.  The demonic tempter is going to introduce the fear of death, including the death to our selfish inclinations, as an attempted blocking action against our willingness to submit ourselves to Christ and His Cross.  Remember that Jesus warned His disciples that if they were to follow Him, they needed to deny themselves (i.e. their fallen desires) and to take up their crosses (Mt. 16:24).  Self-denial is not withholding necessary goods from ourselves.  Rather, it is the pathway to our fulfillment.  We can be fulfilled only when we "put on Christ" and to do so we have to put away the selfish desires driven by concupiscence (see Rom 13:14).  This ancient Christian tradition of asceticism is grounded in the need for temperance.
Christian ascetical practice is different from any other form of asceticism.  For eastern religions, for Gnosticism, and forms of Protestant puritanism, asceticism is required because the material world is evil and bodily pleasure is morally wrong, or at least dangerous.  Christian asceticism recognizes the material world is good because it necessarily reflects God's perfection.  It is worthy so as to be united with the spiritual world; this is shown by human nature.  In fact, it is so good it can be united to God Himself; this is the unfathomable mystery of the Incarnation of the Son of God in Jesus Christ.  Chrisitan asceticism accepts the good of pleasurable experiences but recognizes that in the fall, man is inclined to turning the fruit of sensible pleasure into an end in itself.  
In other words, we are inclined to abuse the goods God has given us and to turn them into means of sinful pleasures (i.e. actions of destructive selfishness).  If asceticism is to be Christian, it is engaged in with the affirmation that we are giving things up because they are good.  Giving up sinful practices are not ascetical practices but acts of conversion and transformation.  Asceticism says no to the excessive use of goods for the sake of self-mastery. Moreover, the suffering encountered in this can also be a means of reparation for sins and thereby they can become acts of selfless love which join these acts, as members of the Body of Christ, to the work of the Cross.  This makes ascetical acts, redemptive acts of love (see Col 1:24).  Thus, no Christian can do without practicing asceticism if he is to conform himself to Christ in his life of ongoing conversion.