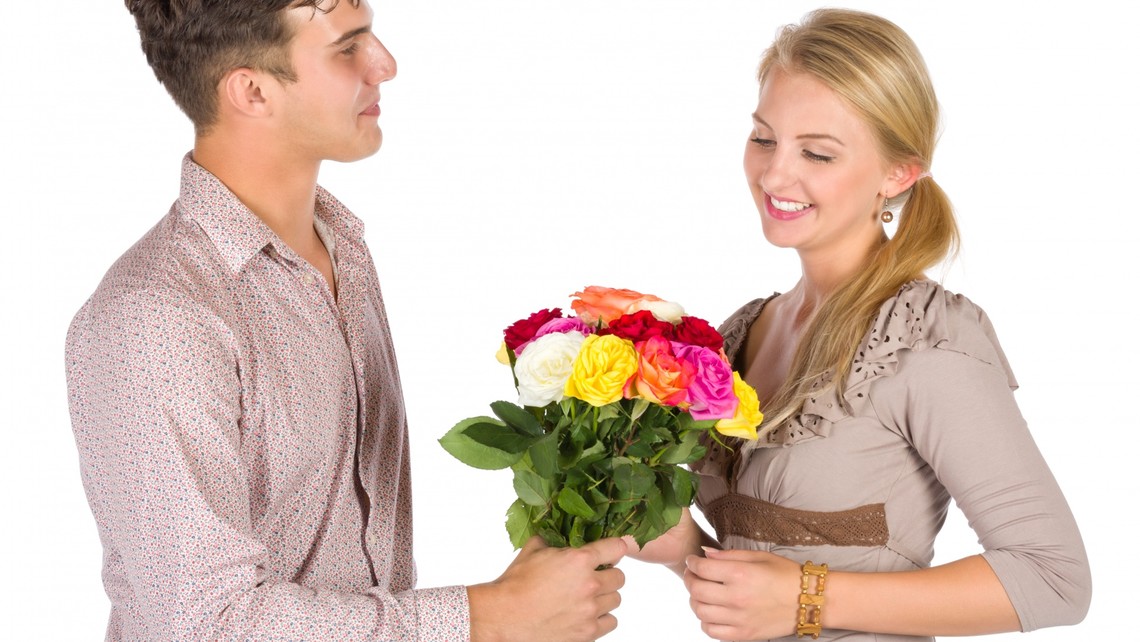 Flourishing marriages and family life are a central concern for the new evangelization.  However, we are living at a time where both are at grave risk.  The statistics in terms of broken families, even for Catholic families, are grim.  While in the past, favorable social conditions may have made marriage formation less essential, that is no longer the case today.  At the last Synod on the Family many Cardinals noted that formation for marriage today is severly lacking.  As we have suggested, what we believe is necessary is a marriage catechumenate.  We are going to do a series of articles on marriage formation and will begin with what we call purposeful dating.
The purpose of dating has become seriously distorted.  Whether a couple could articulate it or not, today their primary reason for dating is likely to be that of satisfying their need for a fulfilling relationship…in the most optimistic of circumstances.  Without realizing it, with this as their goal, they are endangering their likelihood of achieving a relationship that can fulfill them.  If the goal is personal fulfillment, the other person becomes simply a means to that fulfillment and treating another as a mere means is a serious violation of personal dignity, which undermines relationships.  Without an understanding of the human person as one who is wounded by original sin and so continually tempted to use another person, the couple is ill prepared to overcome selfish temptations that will damage and perhaps destroy the relationship. 
The real purpose of dating can only be understood in light of the meaning of the human person and of God's intention for marriage.  As outlandish as this might seem to today's sensibilities, the only legitimate purpose for making a commitment to an exclusive dating relationship between two persons is to take the first step in pursuing the possibility of marriage.  The corollary to this is that one should not begin a dating relationship with another whom one knows would not make a good spouse or whom one does not know well enough to have an initial sense he might be a good spouse.  One should never date simply for fun, to feel fulfilled, or to satisfy any other mistaken objective.
With this as the purpose, it is easy to see the objectives of dating.  The first objective is to come to know one another sufficiently to understand the character of each.  If it is determined that the character of the other is a compatible personality and is trustworthy, the next objective is to build reasonable bonds of trust that will permit courtship (which we will discuss shortly).  The third objective is prayerfully and mutually to discern if God may be calling each to a lifelong commitment to the other person's salvation.  The level of mutual trust must reach a point that each is able confidently to share intimate personal details about which the other must know in order to make a decision about committing to marriage.  Both partners must be able to be assured that these personal details will remain confidential regardless of how the relationship ends up. 
When both partners are ready to make their decisions, the relationship will either proceed to courtship or the couple will amicably dissolve it (not necessarily the friendship but the commitment to an exclusive relationship of discernment).  While neither partner should be pressured into making a decision before being ready, neither should a partner who is ready to proceed be left in a long-term relationship of uncertainty.  The more spiritually mature each partner is and the more both are committed to a chaste relationship of mutual discovery, the easier a decision will be reached.  Learning and taking one's Catholic faith seriously, and undertaking a program of spiritual development is the surest path to successful dating (as well as to courtship and marriage).
A warning: for dating to be successful, a chaste relationship with appropriate emotional and physical limits is an absolute necessity.  Behaviors which lead to sexual arousal and beyond will lead to the illusion of bonding, trust and intimacy where there is none.  In addition to the spiritual turmoil one will experience, even if unaware, judgment will be clouded and improper decisions will be made.  Acts that are meant to bond spouses will have the opposite effect on especially the male partner, making his commitment to the other much more fragile.  Situations and actions which permit the near occasion of sin must be avoided.
Time spent as a couple should be balanced relatively equally among private time and time spent with each partner's family and friends.  This lets each partner understand more fully who the other is, where they come from, and who the family is of which each could become part.  It will also allow the relationship to mature slowly and naturally.  The challenge in this and the courtship phase will be to resist a false sense of intimacy that will obscure the ability to know and increasingly commit to the other person.  Besides the false intimacy introduced by premarital sexual behavior, interiorly consenting to a false idealization of the other person also introduces a false sense of intimacy and commitment.  Each partner must be continually aware of the temptation to idealize the other and so to commit to someone who does not even exist.  This sets impossible expectations neither partner can ever live up to.  Each must continually remind themselves to acknowledge as the real other person, only what they actually hear and observe.
Time and patience will be necessary for the relationship to develop, for trust to grow, and for the intense emotional intoxication to begin to subside.  At this point the temptation for idealization begins to subside, each partner feels more comfortable in the relationship, and both begin to relax their "best behavior" and can see more clearly who each is.  At the same time, dating relationships extending beyond a couple of years, without being able to reach a decision to proceed to courtship could suggest a serious lack intentionality or lack of preparedness for marriage on the part of one or both partners.  This lack of ability to reach the next level of commitment will likely be due to human and spiritual immaturity.  In such a case, qualified spiritual direction and/or else dissolving the relationship is strongly recommended.
Prior to committing to an exclusive, purposeful dating relationship, going out on dates for the purpose of getting to know another person and having a variety of opposite sex relationships of friendship are important.  However, more distant emotional and physical limits should be observed.